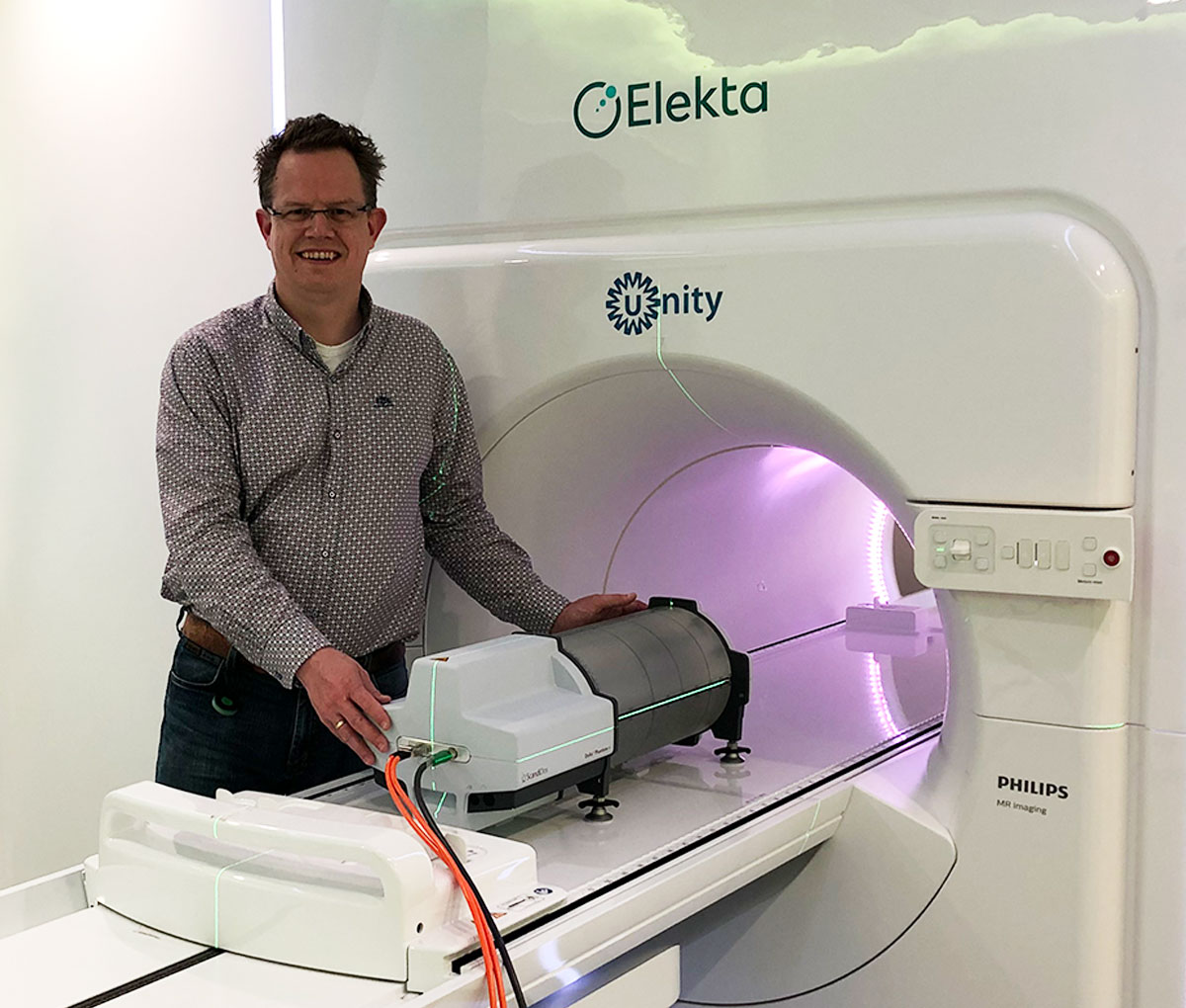 Scandidos has received an order for two Delta4 Phantom+ MR from a highly regarded reference center, UMC Utrecht
CEO Görgen Nilsson
"I am very proud to announce that ScandiDos has received a strategic and high-profile order for two Delta4 Phantom+ MR from UMC Utrecht.
We at ScandiDos view UMC Utrecht as a champion in the field of MRI-linac, because of its high expertise in the area as well as due to its legacy as the university that together with Elekta developed the Elekta Unity. Therefore, the close collaboration between ScandiDos and UMC Utrecht on technical and clinical evaluation has been of invaluable importance in the development of Delta4 Phantom+ MR, always pushing us forward and assuring us to maintain and exceed the high standards regarding our products that we aim for. With this investment in two Delta4 Phantom+ MR, UMC in Utrecht – a true pioneer in this domain – has demonstrated its belief in our product. ScandiDos prides itself in this acknowledgment from the UMC, that from our point of view simply is the best reference we could have received and that we believe only further strengthens the ground breaking products of ScandiDos on the market.
ScandiDos together with our distributor RT-IDea EU BV in the Netherlands have enjoyed a very productive cooperation with UMC Utrecht for many years. It is my pleasure to quote a very wise man and close partner to us at UMC Utrecht who once said: "coming together is a beginning; keeping together is progress; working together is a success". Such a great honor and joy to be able to state – his words are indeed so true!"
Wilfred de Vries, Clinical Physics Engineer, UMCU
" For more than 10 years the radiotherapy department of the University Medical Center Utrecht has relied on the Delta4 Phantom PT for patient treatment plan QA. During development of the Elekta Unity MR-Linac, in cooperation with Scandidos we tested an MR compatible version of the next generation Delta4. Since the Delta4 Phantom+ MR fits seamlessly in our workflow and connects Unity QA to the existing QA program, we decided to purchase a Delta4 Phantom+ MR for patient QA on the Unity and at the same time replace our existing Delta4 Phantom PT for a new Delta4 Phantom+ MR. By having two identical systems we are always able to perform patient QA no matter if the patient is to be treated on an Agility or Unity machine.
The Delta4 Phantom+ MR is quick and easy to use and gives us confidence that our treatments are delivered just as they are intended.  Importantly, the Delta4 Phantom+ MR has also been tested to demonstrate that if there are any delivery errors, it will find those too.
During all the years we have been using Delta4 Phantoms, Scandidos has always been a reliable partner to us. Right from the start they saw the benefit of developing an MR-compatible QA device, although it was at that time still a niche market. In the future we hope to prolong our cooperation with Scandidos to integrate more products of the Delta4 family with Unity MRI-linac. "
Delta4 Phantom+ MR 
Delta4 Phantom+ MR is both CE marked and FDA 510 (k) approved.
Read more
For further information about the Delta4 Family of products visit delta4family.com
Contact:
Görgen Nilsson, CEO ScandiDos, Phone + 46-18-472 3030, info@scandidos.com
ScandiDos AB (publ) listed on First North, is a world-leading company in quality assurance of modern radiation therapy through advanced measurement and calculation methods.