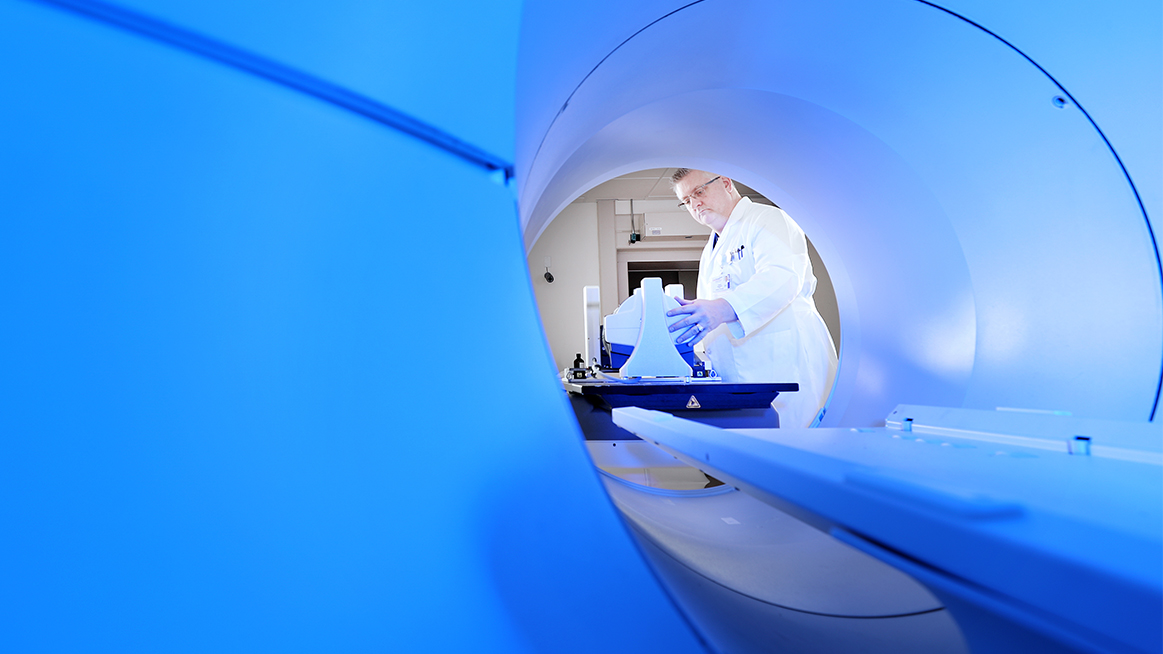 ScandiDos joins forces with Accuray to take motion synchronization QA to the next level
In collaboration with the linac manufacturer Accuray, ScandiDos has developed a solution that improves the quality assurance (QA) of radiotherapy treatments of moving targets. The solution independently simulates the breathing motion of patients, therefore, adding an extra dimension of QA to the already existing product, the ScandiDos Delta4 HexaMotion motion platform.
When people breathe, there's movement inside their bodies
Organs and tissues move around all the time, and so do certain types of tumors in cancer patients. A tumor can shift a few centimeters while a patient breathes in and out. For this reason, clinics in possession of advanced tumor tracking machines require an equally sophisticated QA system that can recreate tumor movements to ensure the best possible treatment outcome. With the new Independent Motion Platform (IMP) option, ScandiDos, a world leader in QA and dosimetry, will not only be able to provide clinics with an ideal simulation of tumor movement, but also with a simulation of the patient's breathing motion, independent of each other.
We chose to work with ScandiDos for our internal testing of the Synchrony® feature for the Radixact® System because they have a robust solution for comprehensive quality assurance of moving targets," says Dylan Casey, Ph.D., Director, Medical Physics & Systems Analysis at Accuray Incorporated. "We have found the Delta4 Phantom+ and the Delta4 HexaMotion to be convenient, accurate, and easy to use."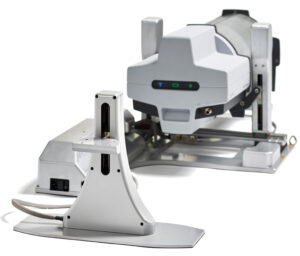 The only solution that simulates patient breathing and tumor movements
ScandiDos QA solutions ensure that the tumor tracking function of the treatment machine works. Delta4 HexaMotion is a motion platform that recreates the movement of the tumor in six dimensions, whereas the Delta4 Phantom+ measures the 4D dose distribution and shows exactly where the dose ends up. The new IMP option for the Delta4 HexaMotion is developed in close collaboration with Accuray, and its purpose is to mimic the breathing of the patient independent of the motion of the tumor. The Delta4 software allows you to run the HexaMotion movement and the IMP movement with a phase shift in order to properly simulate the actual patient situation. Thus, providing medical physicists with a realistic pre-treatment verification of the delivered treatment for machines such as Accuray Radixact® with Synchrony®.
We are proud of our close cooperation with Accuray, and that we can fulfill their extensive demands on Quality Assurance for treatments with moving targets," says Gustaf Piehl, CEO at ScandiDos. "With ScandiDos' solutions, Delta4 Phantom+ and Delta4 HexaMotion, we are simplifying the implementation of this novel technique for Accuray's customers. We're looking forward to supporting them in their important work."
Accurate and Efficient QA of moving targets
The Delta4 solutions give clinics the advantage of a complete validation of the motion management technique for smooth and quick implementation. More importantly, however, they provide verification of the dosimetric effects for moving target treatments.
About Accuray
Accuray is committed to expanding the powerful potential of radiation therapy to improve as many lives as possible. We invent unique, market-changing solutions that are designed to deliver radiation treatments for even the most complex cases—while making commonly treatable cases even easier—to meet the full spectrum of patient needs. We are dedicated to continuous innovation in radiation therapy for oncology, neuro-radiosurgery, and beyond, as we partner with clinicians and administrators, empowering them to help patients get back to their lives, faster. Accuray is headquartered in Sunnyvale, California, with facilities worldwide. To learn more, visit www.accuray.com
About ScandiDos
ScandiDos is the world leader in QA and Dosimetry for modern Radiation Therapy. We provide professionals in the industry with power and performance through independent QA. Over 140 ScandiDos customers are using Delta4 products together with TomoTherapy® or the Radixact® System today.
Go to Delta4 HexaMotion