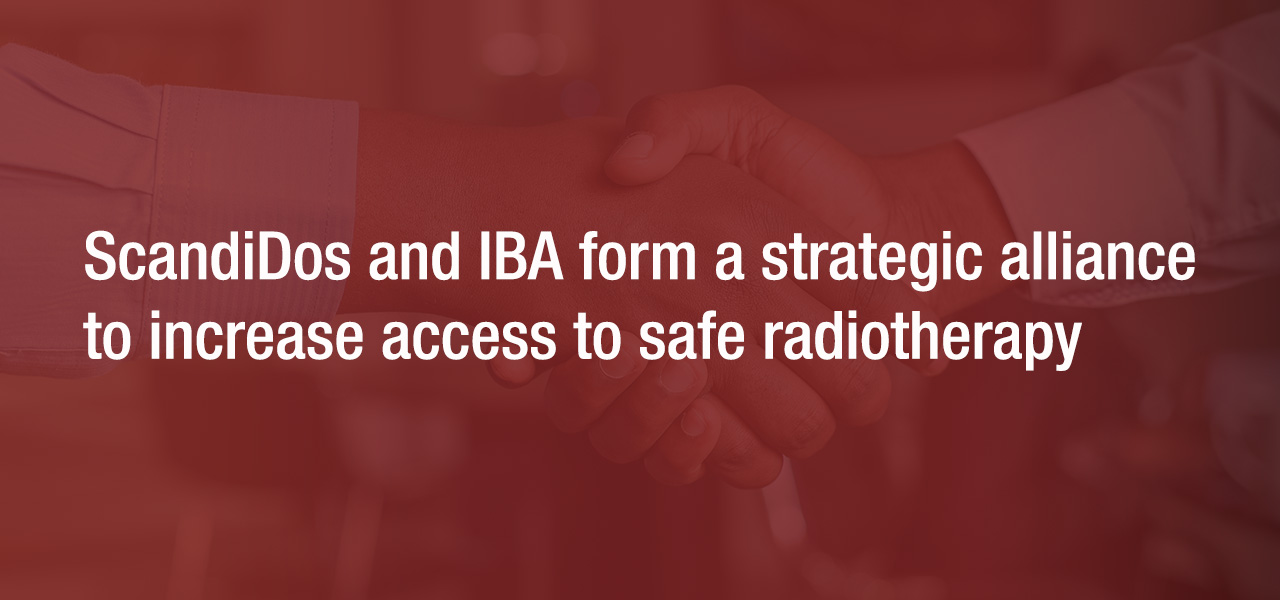 ScandiDos and IBA form a strategic alliance to increase access to safe radiotherapy
ScandiDos A.B. (SDOS.ST), a technology leader in advanced Radiation Therapy Quality Assurance, and IBA S.A. (IBAB.BR), the leader in particle accelerator technology and a leader in dosimetry quality assurance solutions, have formed a strategic alliance for radiation therapy dosimetry solutions.
The strategic alliance enables a collaboration between the two companies within the fields of product development, marketing, and distribution in selected markets. This collaboration offers radiotherapy clinics worldwide access to a one-stop shop of high-end radiotherapy quality assurance solutions. Together we will further enhance physicists' and radiotherapy oncologists' confidence in radiotherapy treatments.
"IBA and ScandiDos have a common understanding of the value of a complete package of solutions for quality assurance of radiation therapy and this has been fundamental in the creation of this alliance between the companies. By partnering with IBA, a leading industry player, ScandiDos will be able to reach more customers globally and help make radiation treatments even safer than they are today. This strategic collaboration will allow us to maintain our independence to continue to develop our business while benefiting from IBA's strong operational capabilities", says Gustaf Piehl, CEO ScandiDos.
"This is an important milestone in our ongoing strategy around industry consolidation. We are proud that ScandiDos has chosen us as their partner for their expansion. For many years, we have been impressed with the quality of ScandiDos' product portfolio in patient quality assurance and believe that it complements our rapidly growing hardware and software offering well. The combination of the companies' product offerings will provide a unique level of quality, simplicity, and versatility to the medical physicists, allowing them to deliver radiation treatments to their full potential, with increased safety to cancer patients everywhere," says Jean-Marc Bothy, President IBA Dosimetry.
As an indication of the commitment to the partnership, IBA has taken an ownership stake in ScandiDos and holds 9.1% of ScandiDos A.B.'s share capital.
Press releases on the topic from ScandiDos and IBA:
ABOUT SCANDIDOS
ScandiDos is an innovative and forward-thinking company with groundbreaking software and hardware solutions for patient quality assurance in modern radiation therapy. The Delta4 product family delivers a complete quality assurance solution that makes the treatment process safe and efficient. We strengthen the trust of the staff of radiation therapy clinics by providing them with an independent receipt that the advanced and complicated treatment can be delivered and has been delivered as prescribed.
The head office is located in Uppsala Science Park where product development is conducted. Sales are made through sales offices in the USA, Malaysia and France, directly in the Nordic countries and through distributors in over 50 countries.
ScandiDos is listed on NASDAQ First North Stockholm with the ticker code SDOS. Certified advisor is Erik Penser Bank (08-463 83 00, certifiedadviser@penser.se). Additional investor information can be found on Scandidos.com . Product information can be found on Delta4family.com
ABOUT IBA
IBA Group (Ion Beam Applications S.A) is the world's leading supplier of particle accelerator technology. The company is a leading provider of equipment and services in the proton therapy field, considered the most advanced form of radiation therapy available today. IBA is also a leading supplier in the areas of industrial sterilization, radiopharmaceuticals and dosimetry. The company, which is based in Louvain-la-Neuve, Belgium, has approximately 1600 employees globally. IBA is a certified B Corp company that meets the highest standards of social and environmental sustainability.
IBA is listed on the pan-European exchange EURONEXT (IBA: Reuters IBAB.BR and Bloomberg IBAB:BB. For more information, see: www.iba-worldwide.com
CONTACT
Gustaf Piehl, CEO, ScandiDos: investor@scandidos.com, +46 18-472 30 20